Golf Memberships
Lincoln Oaks 2021 Memberships
Lincoln Oaks is pleased to announce Membership rates for the 2021 Golf Season.  Pay for 2021 Membership before December 31, 2020 and received early pay pricing. 
1/2 Down before Dec 31, 2020 and the balance is due March 15th, 2021.
                                           12/31 payment  2020             payment 2021                                                       
Weekday Senior (50+):               $1,000                             $1100
Individual Anytime
(includes spouse ):                        $1,200                             $1300
Family Range Unlimited balls  $190                                 $190 
Corporate:                                                  negotiable* 
**   $200 ** Membership Plan     w/$17 mandatory cart fee each time you play**  good 7 days a week except weekends before 10:00 am ** Range included for $50.  Valid for all league play.  Spouse is included but each player pays the mandatory cart fee!
Most memberships include unlimited cart and range (see above for exceptions).  Memberships do not apply for outings or special events.  In addition, weekday memberships do not apply on holidays.  Membership play is subject to course availability.
Fees are due in full by 3/15/2021.  Late payments will be accepted after 3/15/2021, however, your membership will be SUSPENDED until paid in full.  Memberships in each category are limited and may be capped at anytime without notice.  A down payment of half the amount is due on or before 12/31/2020 to lock in your membership for next year.
We can also create a membership to meet all of your golfing needs in 2021!
*Contact Bob Seymour or Mark Haines for further details or questions  (708) 672-9401.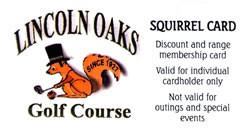 Squirrel Card – $150
Driving Range Membership
Free Range ($250 value)
Discounted Golf Rates

$3 Discount on Weekdays
$4 Discount on Weekdays
– Valid for all play at Lincoln Oaks, even league members (not valid for golf outings)
– Purchase in Pro Shop